Pratibha Patil - Questionable Candidate
Like Caesar's Wife
This is an archived blog post from The Acorn.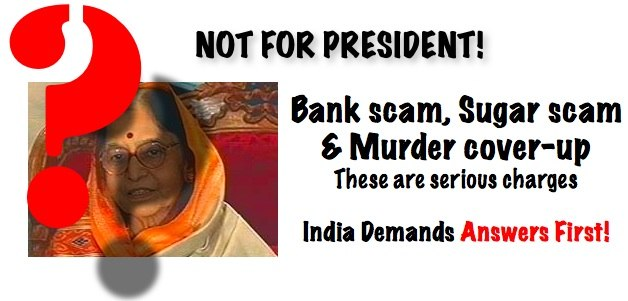 Here's why this banner needs to go up. And here's where you can get this banner from.
Update: An excellent editorial in Business Standard
Little would Pratibha Patil have thought when she was suddenly nominated as the UPA candidate to become the President of India that those who would wear the crown first have to make sure that there are no skeletons rattling around in their cupboards. Two have already tumbled out of hers, and who knows how many more will pop out in the next few days! One expects Heads of State of this country to, at the very least, have wiped their traces clean. Indeed, if the 1990s was permissive, this decade has been positively licentious. The Government of the Clean—with those uplifting symbols of purity, sacrifice and virtue, Sonia Gandhi, Manmohan Singh and, of course, the Yudhishtir-like Left—has forgotten the meaning of the simpler requirements of governance, such as moral authority, propriety, dharma and the like. So deaf is its conscience and so mute its inner voice that it wants to foist a person with a rather spotty reputation as President. But it is not too late even now. Perhaps Mrs Patil could and should save her patrons further embarrassment. After all, she too may have an inner voice urging her to renounce such worldly things as being the President of India. [Business Standard]
---

If you would like to share or comment on this, please
discuss it on my GitHub
Previous
You can make her President…
Next
Rage for Wage
© Copyright 2003-2023. Nitin Pai. All Rights Reserved.