August 28, 2007 ☼ Aside ☼ Security
Guess what they were discussing?
An all-party meeting to discuss…
This is an archived blog post from The Acorn.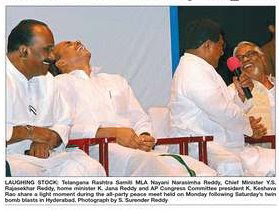 (via Barbad Katte)
The terrorist attacks on Hyderabad!
---

If you would like to share or comment on this, please
Previous
Energy security begins at home (nuclear power edition)
Next
It's about balancing China
© Copyright 2003-2021. Nitin Pai. All Rights Reserved.